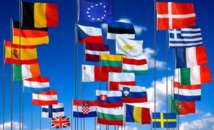 Further, Prime Minister Kyriakos Mitsotakis intends to include the issue on the agenda of the EU summit on Friday and seek support from member countries.
EU leaders are likely to condemn the Turkey-Libya maritime deal at a meeting in Brussels later this week, declaring the boundary demarcation agreement to be in breach of international laws, according to a draft summit statement seen by dpa.
The memorandum of understanding "infringes upon the sovereign rights of third states, does not comply with the law of the sea and cannot produce any legal consequences for third states," the text says.
The statement expresses "solidarity" with Greece and Cyprus, which worry that Turkey is trying to establish a claim to valuable natural gas reserves that are suspected to lie under the sea bed.
The latest steps are set to raise tensions in the eastern Mediterranean by another notch. Greece has already expelled the Libyan ambassador to Athens over the issue.
Athens insists that the deal on maritime boundaries Turkey signed with Libya was to, as Foreign Minister Mevlut Cavusoglu then said, protect their rights in the eastern Mediterranean "under international law and ensure a fair share of resources there."
The deal comes amid Turkish offshore drilling activities near Cyprus, which angered the European Union and Greek Cypriots on the divided island, further straining traditionally poor relations between Ankara and Athens.
Cyprus, which joined the EU in 2004, considers the drill area to be part of its exclusive economic zone. Ankara maintains that its gas exploration is in line with international law.
The island-state has, since 1974, been split into a predominantly Greek south and a Turkish north, whose sovereignty is recognized only by Ankara.
Under the agreement, which apart from maritime borders also covers "security and military cooperation," Turkey may also send troops to the country if Tripoli requests it, President Recep Tayyip Erdogan said Tuesday.
"If Libya is making such a request from us, we can also send our people to Libya, whatever is sufficient - especially after we made this military security agreement," he told students in Ankara.