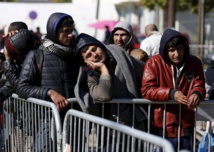 More than 300 police took part in the dawn raids that targeted abandoned facilities around the Patras port.
The city, located on the southern lip of the Gulf of Corinth, has served as the hub for migrants trying to reach Italy across the Adriatic.
The people, mostly men from Afghanistan and Pakistan, usually try stowing away in lorries for a ferry ride to an Italian port such as Bari, Ancona, Trieste and Brindisi.
Recently the security situation deteriorated in the makeshift camps around the port. Last week a 17-year old was killed and several others were wounded in clashes between groups.