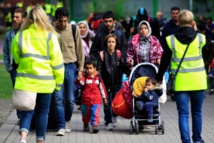 The group confessed in court to having taken money from migrants to complete German language tests required for a residency permit on their behalf.
The court agreed with the assessment of the public prosecutor's office that the practice amounted to attempted human trafficking and forgery.
Two men thought to be the group's ringleaders received sentences of three years and three months and four years.
Another man and a woman, a former couple, were given suspended sentences of two years each after they admitted taking the tests using fake passports.
"The tasks were relatively easy," the 25-year-old German man told the court, describing how he had received 300 euros (349 dollars) per test. "I'm pretty sure I passed all the tests," he added.
The prosecution had demanded long prison terms of between two and a half and five years for four of the original group of five defendants.
The case against the fifth was dismissed shortly before the verdict because of a request for evidence.
Germany's Federal Office for Migration and Refugees (BAMF) says around 90 per cent of participants in so-called integration courses, covering language and cultural orientation, pass the final tests.
Cases are known of individuals trying to cheat on the tests, but the involvement of criminal gangs is extremely rare.