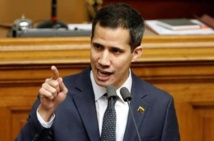 Guaido called for protests across the country on Saturday to demand Maduro's resignation. "The regime is on the brink of collapse," he said.
He also appealed to the army to side with the opposition. "Soldiers, do your duty," he said. "We do not want rebellion, we want free elections."
Meanwhile, Trump blasted Maduro, saying "everything is broken" in Venezuela, citing a precipitous fall in oil exports and the power and water cuts.
"They have plenty of pressure right now... Other than military, you cannot get more pressure than they have," Trump said about the Maduro government, adding what was happening is a "tragedy." He repeated that all options are on the table with regards to Venezuela.
Trump also demanded that Russian forces "get out" of Venezuela, as he criticized Moscow for putting troops in the country.
"Russia has to get out," Trump said at the White House when asked about the types of complication the intervention has created.
"What's going there is unfathomable to everybody who sees... We are getting reports that are horrible," Trump said at the White House, sitting next to Fabiana Rosales, the wife of Guaido.
Russia rejected Trump's demand as unacceptable. "Now Trump is getting mixed up in bilateral relations between two sovereign nations," said the chairman of the international affairs committee in Russia's upper house of parliament, Konstantin Kosachev.
Guaido declared himself interim president of Venezuela earlier this year, quickly earning the support of several Western nations, including the US.
Washington has imposed sanctions against a number of Venezuelan individuals, including Maduro and his inner circle, as well as the state-run oil company PDVSA.
Also Wednesday, US Secretary of State Mike Pompeo warned that some 2 million additional refugees may flee Venezuela and seek shelter in neighbouring Latin American countries, as he testified before lawmakers on Capitol Hill.
These people would join more than 3 million Venezuelans who have already fled in recent years to escape the economic and political crisis that has consumed the country.
This week, much of the country has been without power, in a further sign of infrastructure collapse. Pompeo blamed Maduro for the economic problems and said the real sources of the crisis predate the sanctions Washington imposed this year.
The US no longer views Maduro as the president of Venezuela and has switched its recognition to Guaido. At the White House, Rosales was referred to as the "first lady."
She said that the power crisis and intense food shortages were leading to deaths among children and the elderly.
"Venezuela is going through a terrible crisis," she said through a translator, seated beside the US president.
She also accused the Caracas government of arresting and harassing people in her extended family as a means to get at her husband.
"They are hitting everything closest to him, trying in that way to destabilize him," she said.
The US is urging Maduro to step down and Trump has said before that he wants recently arrived Russian troops to leave Venezuela.
They landed in the country in a bid to prop up the government, in a move the State Department had condemned as a "reckless escalation."
Recent media reports said that two Russian military planes - an An-124 cargo plane and an Il-62 passenger jet - had landed in Venezuela carrying about 100 personnel.
Russia is one of the crisis-hit Venezuelan government's strongest backers, having provided billions of dollars in credit to the South American country in recent years.
Maduro has repeatedly blamed Washington for Venezuela's problems, including the recent power blackouts that he said were caused by cyberattacks by the US and the opposition.
Trump accused Maduro of blocking aid and said that this was a poor political decision. "Even from a dictator's standpoint this is not good," he chided the Venezuelan leader.
Pompeo said that the US will support the Venezuelan people, but cautioned that the country's road to recovery would be long. "This will be a years-long undertaking... to get the Venezuelan people back on their feet," Pompeo told the House Appropriations Committee.
The "Maduro decimation" was also leading to troubling signs of an uptick in narco-trafficking in the region, he added.