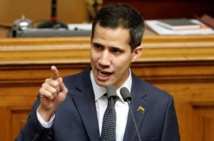 Carlos Vecchio, Guaido's envoy to the US, tweeted on Monday that "following instructions of Interim President @jguaido, we officially requested the @Southcom a meeting with a technical delegation to advance in strategic and operational planning with the priority goal of stopping our people's suffering and restoring democracy."
Guaido has been recognized as Venezuela's interim leader by the US and dozens of other countries, but the vast majority of the Venezuelan army has sided with Maduro and helped him hang on to power.
Recently, Guaido has raised the stakes, making references to a possible US military intervention to force the president out.
Guaido said on Saturday that he had asked Vecchio, whom Washington recognizes as the Venezuelan ambassador, to open "direct communications" with the US Southern Command to discuss possible military "coordination."
In a letter addressed to commander Craig Faller, Vecchio wrote that "the Guaido administration welcomes the support of the United States and confirms our government's willingness to begin discussions regarding the cooperation that has been offered."
"As you know, the conditions in Venezuela worsen, as a consequence of the corrupt and incompetent regime of Nicolas Maduro, which tragically, has national security consequences in Venezuela and among her neighbours," the envoy wrote.
"Of equal concern is the impact of the presence of uninvited foreign forces that place our country and others at risk," Vecchio added, in an apparent reference to the alleged presence of Cuban troops in Venezuela. Havana has denied having military presence in the country.
Venezuelan Vice President Delcy Rodriguez dismissed Vecchio's letter as "a piece of nonsense by putschists who are calling for an intervention" - in a reference to an alleged coup attempt by Guaido on April 30 - and who try to "generate anxiety."
"They shall not invade Venezuela militarily," Rodriguez vowed at a press conference, adding that the army would remain united.
US President Donald Trump has said he does not rule out the possibility of a military intervention. Faller said last week that the US would support "the future role" of Venezuelan senior army commanders who turned against Maduro.
However, a US military intervention is deemed unlikely for the time being.
Meanwhile, family members of Venezuelan senior opposition figure and Guaido associate Edgar Zambrano called on the authorities to provide proof that he is still alive after being detained last week.
Zambrano was due to appear in court late Friday, the newspaper El Universal reported. However, the court was closed at the time of the appointment.
"I appeal to the relevant authorities to give a sign of life of Deputy Edgar Zambrano, who is my father," his daughter Soley Zambrano said in an online video that was posted Sunday evening.
The Supreme Tribunal of Justice said on Friday that Zambrano was suspected of involvement in Guaido's alleged coup attempt. Guaido called for a military insurrection on April 30, but the opposition has denied having attempted a coup.
Maduro won a second term in a disputed election a year ago and has presided over an economic disaster, with hyperinflation and goods shortages driving millions of people abroad.
Guaido declared himself interim president in January and immediately won widespread international support, while Maduro's allies include China and Russia.