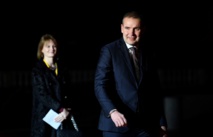 Gudni Johannesson: Historian, family man
Johannesson was born in the capital, Reykjavik. After completing school in Iceland, he studied at the University of Warwick in Britain and completed a master's degree at the University of Iceland in 1997 before studying history at Oxford University, where he met his Canadian-born wife, Eliza Reid, who was studying modern history.
He earned his doctorate in history at Queen Mary University in London in 2003. Johannesson has also studied Russian and German.
The couple moved to Iceland in 2003. They have four children together. Johannesson also has a daughter from a previous marriage.
Between 2013 and 2016, Johannesson taught history at the University of Iceland, and he has also taught at other universities in Iceland and the University of London.
He also worked part-time as a reporter for public broadcaster RUV.
He ran as an independent in 2016 and has been seen as a popular head of state, seeking to be a symbol of unity.
Johannesson often cycles with his children to school and follows their sports activities after school. He played handball in his youth, and one of his two brothers has played for Iceland.
While largely playing a ceremonial role, the president does have a role in the formation of government.
Johannesson was engaged in government-building talks following parliamentary elections in 2016 and 2017. In late 2017, Katrin Jakobsdottir formed a three-party coalition government and became Iceland's second female prime minister.