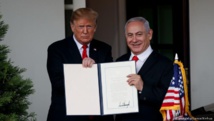 Saudi Arabia called the move a "clear violation" of the United Nations charter and relevant resolutions.
"The Kingdom of Saudi Arabia has expressed its firm rejection and condemnation of the declaration issued by the American administration to recognize Israel's sovereignty over the occupied Syrian Golan Heights," said a statement carried by the SPA state news agency.
The oil-rich monarchy warned in the statement that the US step would have "major negative effects" on Middle East peace-making efforts.
Kuwait meanwhile voiced "regret and dismay" over Trump's decision, saying it poses a threat to security and stability in the Middle East, the country's official news agency KUNA reported citing an unnamed official at the Kuwaiti Foreign Ministry.
Bahrain reacted similarly. The kingdom, home to the US Navy's Fifth Fleet, said it regards the Golan Heights as occupied Syrian territory, the Bahraini news agency BNA reported.
On Monday, Trump signed a proclamation recognizing Israel's claim to sovereignty over Golan in a ceremony at the White House attended by Israeli Prime Minister Benjamin Netanyahu.
The move follows Trump's shift last year of the US embassy from Tel Aviv to Jerusalem, sparking anger in the Muslim world.
Israel seized the strategic Golan Heights from Syria in the 1967 Arab-Israeli war. Israel annexed the territory in 1981, though this move has not been recognized internationally.