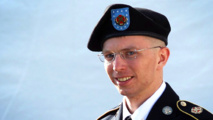 Manning, then known as Bradley, sought support from Adrian Lamo via an internet chat and told him about classified military files she had downloaded and sent to the whistle-blowing website WikiLeaks.
Lamo then alerted federal law enforcement officials, leading to Manning's arrest in 2010.
"With great sadness and a broken heart I have to let know all of Adrian's friends and acquittances [sic] that he is dead. A bright mind and compassionate soul is gone, he was my beloved son..." Lamo's father Mario wrote on Facebook on Friday.
The Sedgwick County Coroner in Kansas, where Lamo lived, was not immediately available to comment but confirmed his death to US media including the business technology website ZDNet.
Manning was later jailed for 35 years for the leaks, which included footage from a deadly US helicopter attack in Baghdad in which two Reuters journalists were among those killed.
Manning was released from prison in May last year after her sentence was commuted by former US president Barack Obama.