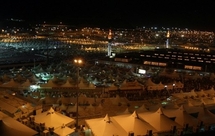 The stoning of the three broad stone pillars over two or three days marks Abraham's three rejections of the devil's attempts to persuade him to ignore God's instructions to sacrifice his son Ishmael, as related in the Koran.
After the stoning they circumambulate the kaaba to complete the hajj, required of all able Muslims and for many a purifying, once-in-a-lifetime experience.
"I spent the night here (in Mina) with my husband to finish the stoning rite early this morning because we have to leave tomorrow," said Moroccan Amira al-Haj, 59, pointing to a carpet near the three pillars.
Many who had already completed the rigorous process shopped for souvenirs to take back before departures began en masse.
Saudi-style jalabiya caftans, prayer beads, Saudi perfumes and dates were all popular, as were jugs of holy water for drinking and ablutions from the Zam Zam well inside the Grand Mosque.
After fears of a mass outbreak of swine flu, outlawed political protests by Iranians and deadly stampedes of past pilgrimages, the authorities said this year's hajj -- attended by 2.3 million pilgrims -- was mostly trouble-free.
King Abdullah offered congratulations on the event's success, citing firmness in addressing security matters.
"We don't tolerate anyone disturbing the rituals or undermining the security of the pilgrims," he said.
"The security of the pilgrims is a responsibility that does not permit laxity or lenience. We assume this duty with firmness and determination."
In the event, fewer than 100 suspected flu infections were reported and only five deaths, all of people already suffering other afflictions, health officials said.
Intense preparation and screening for the flu, and new walkways designed to avoid crushes, were credited with keeping the hajj safe.
"The measures were very effective," said Algerian pilgrim Mohammed Fazeli.
"Frankly, I did not witness any impact of crowd congestion or the swine flu," said Ahmad Mansour Sissi, a Senegalese government official.
Iranian pilgrims staged their ritual-like protest, chanting "death to America and Israel" as the "enemies of Islam," inside their own tent and the authorities did not interfere.
This avoided a possible clash after Riyadh warned against politicising the hajj.
The only problem, most pilgrims said, was Wednesday downpour that sparked deadly flash floods in nearby Jeddah.
Saudi-owned Al-Arabiya television reported late on Saturday that the death toll from the disaster had reached 103.
The rains also caused minor flooding in Mecca and jammed bus transport between Mecca and Mina, but there were no pilgrim deaths, according to the authorities.
In Jeddah, where roads and bridges in some parts of the city were swept away, authorities said routes for pilgrims to the airport and seaport hajj terminals were clear.
Most of the 1.6 million pilgrims from abroad go by bus to Jeddah, the main gateway to Mecca, to catch flights, ferries and long-haul buses home.
Another 700,000 pilgrims came from inside Saudi Arabia, 200,000 fewer than expected. Officials blamed the lower number on swine flu worries and tighter budgets because of the economic downturn.
---------------------------------------------------------------------------------------------------------------------------------------
Image: Mahmud Hams/AFP.