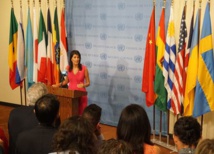 Standing in front of the remnants of the missile at a military base in Washington, Haley said the Iranian regime was in violation of UN Security Council resolutions on weapons proliferation.
She said the United States and its allies had declassified intelligence on weapons supplied by the Iranians to support insurgents and terrorist groups in Yemen, Lebanon, Syria and Iraq "because the Iranian regime cannot be allowed to engage in its lawless behaviour any longer."
"The fight against Iranian aggression is the world's fight," she said. "In this warehouse is concrete evidence of Iranian military proliferation."
She invited all members of the UN Security Council as well as US lawmakers to examine the weapons on display and called on the international community to hold Iran accountable.
Iran denied her accusations. "Iran has never provided [Houthi rebels in] Yemen with missiles and these allegations are completely groundless," Iran's UN ambassador to the UN Gholamali Khoshroo said.
He accused Haley of falsifying her evidence and said it reflected the US' irresponsible, destructive and provocative policy in the region and towards Iran.
"The goal of such allegations is to cover up Saudi Arabia's crimes in Yemen," Khoshroo continued, according to the news agency IRNA.
Iranian Foreign Minister Javad Zarif tweeted a picture of Haley next to a picture of former US Secretary of State Colin Powell in 2003 presenting what he said was evidence of Iraq's weapons programme - intelligence which later turned out to be false but kicked off the Iraq war.
"When I was based at the UN, I saw this show and what it begat," Zarif tweeted alongside the photos.
But Saudi Arabia welcomed Haley's comments, and reiterated its condemnation of Iran for supporting the Houthi rebels, who are fighting against the Saudi-led coalition in the Yemen conflict.
Haley said the UN Secretary General Antonio Guterres' latest implementation report on the Iran nuclear deal, which was released publicly on Thursday, gave clear evidence that Iran was violating Security Council resolutions.
But the report said UN investigators were still reviewing information after examining missile debris from the Houthi missile launches at Riyadh on November 4 and the Saudi coastal town of Yanbu of July 22.
Guterres said in the report that the US decision to decertify the international agreement to curb Tehran's nuclear ambitions created "considerable uncertainty" about its future, but that he was "reassured" that the US was not pulling out "for now."
Haley did not detail what the next step should be following the US move, which stopped short of withdrawing from the deal completely.
Asked if the Security Council is likely to take action against Iran, Britain's UN Ambassador Matthew Rycroft said that it is important to demonstrate - "to everyone, including to sceptics" of the nuclear deal - that council members are willing to follow up on reports of Iranian misbehaviour.
Notepad