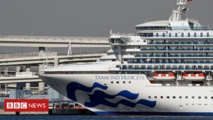 More than 700 passengers and crew members have been diagnosed with COVID-19 since the boat docked in
Japan
on
Feb. 3
and was quarantined for 14 days in
Yokohama
. Of those, about 46.5 per cent, or 331 people, were asymptomatic at the time of testing, the
CDC
announced.
Of the 381 symptomatic patients, 37 (9.7 per cent) required intensive care and nine (1.3 per cent) died.
The lack of visible symptoms likely allowed the virus to spread aboard the Diamond Princess as passengers failed to quarantine themselves and crew members were still expected to keep working.
Traces of coronavirus were still on surfaces on the ship up to 17 days after the cabins were cleared, the
CDC
said.