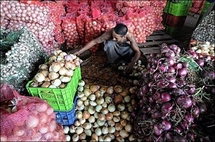 "The stresses on global food production from temperature alone are going to be huge, and that doesn't take into account water supplies stressed by the higher temperatures," said David Battisti, a University of Washington atmospheric sciences professor.
"We are taking the worst of what we've seen historically and saying that in the future it is going to be a lot worse unless there is some kind of adaptation," added Rosamond Naylor, director of Stanford University's Program on Food Security and the Environment/
In the tropics, the warmest temperatures will cut maize and rice harvests by 20 to 40 percent, the researchers said.
The hotter weather will also reduce the moisture in the soil, cutting yields even further.
Some three billion people, or half the world's population, currently live in tropical and sub-tropical regions, and their number is set to double by the end of the century.
These regions stretch from northern India, southern China to much of Australia and all of Africa, and also extend from the southern United States to northern Argentina and southern Brazil.
---------------------
Image of a vendor selling onions in Nicaragua in 2008, by Miguel Alvarez.