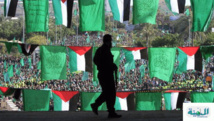 Leaders of Islamist militant group Hamas and PA President Mahmoud Abbas agreed to postpone the power transfer to December 10 from December 1, Fatah official Fayez Abu Eita told the press on Wednesday.
The internationally supported and Fatah-controlled PA government is set to take over the strip following an Egyptian-brokered reconciliation agreement in October.
Both sides have said little progress has been made to reach the original deadline.
Differences between the rival factions have mounted over the past days as a high-ranking Egyptian delegation is in the Gaza Strip for three days to help mediate the disagreements.
Earlier on Wednesday, Hamas prevented dozens of former PA employees, affiliated with its rival Fatah party, from returning to positions they left in 2007 when Hamas violently seized control of the Gaza Strip, a PA official said.
The employees, including PA Minister of Local Affairs Hussein Al-A'raj, gathered at various ministries in the Gaza Strip on Wednesday, where Hamas police and Hamas employees prevented them from entering the offices, PA spokesman Yousef al-Mahmoud said.
On Tuesday the PA cabinet called on Fatah employees to return to their jobs in Gaza that were left vacant and subsequently filled by tens of thousands Hamas bureaucrats in 2007.
Hamas condemned the move as a "violation" of the reconciliation process.
The employee issue has become one of the major sticking points in a decade of failed reconciliation attempts between the two sides.
PA President Abbas, who is based in the West Bank, has refused to add the Hamas bureaucrats to his government's already bloated payroll, while Hamas is unwilling to leave the workers jobless.
Hamas has also adamantly rejected any talks of disbanding its 25,000-strong militant force.
Notepad