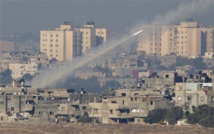 An Israeli military spokeswoman said she could not discuss political matters, but said Israel was not currently conducting any attacks in Gaza.
Israel Defence Forces spokesman Jonathan Conricus said the military had since Friday attacked 60 targets, including three Hamas battalion headquarters.
The Israeli army said earlier its airstrikes were in response to a shooting attack on its soldiers posted along the southern Gaza border, where Palestinian protesters had gathered along the fence.
Four Palestinians were killed by Israeli fire in the ensuing clashes, the Gaza Health Ministry said. According to Hamas, which controls the Gaza Strip, three of those killed were Hamas members.
Israel said one of its soldiers, who was wounded by the Palestinian gunfire at the border, later died.
Israeli jets pounded Hamas storage and training facilities, observation posts and military offices, in what the army described as a "wide-scale" assault.
In a statement, the army said that the shots fired along the border in addition to Hamas' activities in recent months proved that the radical Islamic organization was seeking to intensify the violence.
The UN Middle East envoy, Nickolay Mladenov, who had recently worked with Egypt to de-escalate the situation in the region, urged those involved to show restraint and calm.
"Everyone in #Gaza needs to step back from the brink. Not next week. Not tomorrow. Right NOW!" Mladenov wrote on Twitter.
Friday saw renewed demonstrations along the Gaza border, with Palestinians burning tyres, attempting to damage the border fence with Israel and sending flaming kites and balloons into Israeli territory, according to eyewitness accounts.
According to the Gaza Health Ministry, protests have seen 146 Palestinians killed and thousands injured by Israeli soldiers since the end of March.
Palestinians have been demanding an end to the blockade of Gaza that was imposed more than 10 years ago, as well as a right to return to the territory from which they were expelled when Israel was founded in 1948.
Israeli media reported that Egypt had sent Hamas an ultimatum from Israel, stating that if the attacks did not stop by the weekend, it would launch a new military offensive in the coastal strip.
Hamas and Israel fought a war lasting 50 days in the summer of 2014. In total, 2,250 Palestinians were killed or later died from their injuries, while 74 Israelis died in the conflict.