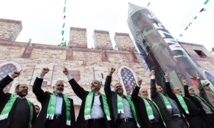 The Hamas interior ministry denied the allegations, saying it respects the rule of law and that there were no such hunger strikes.
The Independent Commission for Human Rights said in a statement that it had repeatedly been denied access to several prisoners said to be refusing food in protest at their detention.
The ICHR said the Hamas internal security service "refused to allow visitation rights and denied that they are refusing to eat."
The refusal "contravenes the law and raises concerns about their state of health," it added.
No details were given on the number of prisoners or the conditions of their imprisonment.
Interior ministry spokesman Iyad al-Bozum said the ICHR statement was "sprinkled with fallacious arguments and with fabrications."
"We do not detain anyone for their opinions and no prisoner is on hunger strike," he responded in a statement of his own.
"The ministry has nothing to hide from human rights organisations, which visit all places of detention."
Hamas, which wrested power in the Gaza Strip from the Palestinian Authority in vicious 2007 fighting, now runs all the security services in the enclave which is under Israeli and Egyptian blockade.
Palestinians held in Israeli jails regularly employ hunger strikes to protest against their detention and draw attention to their conditions.