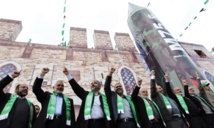 Israel has been heavily criticized for the offensive, known as "Black Friday," in which the army killed Palestinian civilians during an attempt to rescue a kidnapped soldier. Amnesty International has said their is "strong evidence" of Israeli war crimes during the incident.
"This investigation is not reasonable and has no legal or political meaning or consideration," Hazem Qassem, a Hamas spokesman, said on Thursday.
"The reason that the Israeli army said it was not a massacre is because it wants to escape from any future international cases that will be submitted to the international criminal court to sue the Israeli leaders for their crimes committed against humanity," Qassem said.
According to the army's internal investigation, released on Wednesday, up to 70 Palestinian civilians were "unintentionally" killed during the four-day offensive and at least 42 militants died.
Israeli rights group B'tselem cites a higher death toll of 207 people killed, including 154 civilians.
The most intense part of the fighting started on the Friday morning of August 1 - shortly after a ceasefire went into effect - when Palestinian militants emerged from a tunnel and kidnapped Hadar Goldin and killed two other soldiers.
Rights groups said Israel's operations plan for kidnapped soldiers, known as the "Hannibal Directive," permitted disproportionate use of force to rescue to the soldier. The army denies that accusation.
Notepad