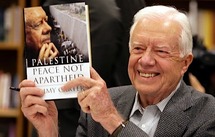 Topics of discussion are likely to include the state of the truce between Israel and Hamas, which controls the Gaza Strip enclave of the Palestinian territories, the Hamas official said on Saturday.

Their talks will also cover Israeli soldier Gilad Shalit, still being held hostage in Gaza after more than two years, and the Israeli blockade on the territory, the official said.

Carter previously met Mechaal, who lives in Syria, during a visit to the country in April, sparking criticism from Israel and the United States.

The former US president told a news conference on Saturday that he is hoping for reconciliation between Hamas and its rival Palestinian group, the Fatah movement of President Mahmud Abbas, and that a lasting peace is achieved between the Palestinians and Israel.

Earlier on Saturday, the ex-president met Syrian President Bashar al-Assad, who praised his efforts to help bring peace to the Middle East, the official SANA news agency reported.

The two men discussed "the indirect peace talks between Syria and Israel," launched in May with Turkey as intermediary and suspended in July, the news agency said.

They also talked about "the question of the Golan Heights," occupied by Israel since 1967 and which Syria wants back before signing any peace deal with Israel, SANA said.

Assad "praised efforts made by Mr Carter for peace" while Carter "expressed the hope that the new (US) administration involves itself in the peace process in the region, which would help greatly in achieving stability in the Middle East and the world," it added.

The two men mentioned "the tragedy facing people in the Gaza Strip because of the unjust blockade imposed by Israel," the news agency said.

The meeting also covered relations between Syria and the United States, tense for several years.

Carter said at his news conference that he hopes Syria-US relations will resume with the arrival of the new US administration.

He arrived in Damascus on Saturday after a visit to Lebanon, where he met political leaders to raise the idea of sending observers from his foundation to monitor next year's elections, a Carter Center spokesman told AFP.