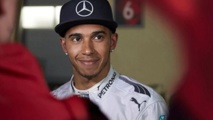 The Mercedes driver finished more than half a second ahead of teammate Valterri Bottas who came in second-fastest on the Melbourne circuit.
Hamilton's main rival for the Formula One drivers' championship, Sebastian Vettel, came in fifth. The German Ferrari driver finished 0.969 seconds behind the 32-year-old defending champion.
Red Bull's Max Verstappen came in third-fastest and Ferrari's Kimi Raikkonen was fourth.
Australian Red Bull driver Daniel Ricciardo was sixth-fastest at his home Grand Prix.
A second practice is scheduled for 4pm (0500 GMT). The race, the first of 21 in 2018, begins Sunday.