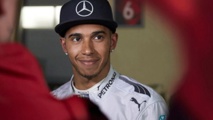 Hamilton posted 1 minute 34.794 seconds on the 5.554-kilometres Yas Marina course for his 11th pole of the season and 83rd overall.
Bottas trailed by 0.162 seconds and Ferrari's Sebastian Vettel was third, 0.331 off the pace.
No team has ever managed before to lock out the first row on the grid at one race five years in a row.
Hamilton has already secured a fifth Formula One world title but can achieve a personal record-tying 11th season victory on Sunday.
Bottas, who won in Abu Dhabi last year, can still finish third in the final standings for which he must make up 14 points on Ferrari's Kimi Raikkonen who was fourth in qualifying. Max Verstappen is also in the race for third, the Red Bull driver starting from sixth and three points behind Bottas.
Mercedes have won the last four races under the Abu Dhabi floodlights, Hamilton on top twice in that period.
"It was an emotional qualifying for me because it was the last one in this car. I've been so emotionally attached to this car," said the Briton who had also topped final practice earlier in the day.
"What a great way to end the season with a one-two qualifying session."
Bottas admitted he would have preferred a different order: "For sure I was aiming for pole ... Personally P2 wasn't what I was expecting but good for us even though we have secured the championships we can still be one-two for the final race."
Vettel, beaten for the title once again by Hamilton, said: "I enjoyed the session" although in the end "we just weren't quite there.
"Tomorrow will be a long race, and it will be fun. I'm looking forward to getting in the car tomorrow for the last time this season and giving it a real go."
Former two-time world champion Fernando Alonso will meanwhile start his last career race from 15th place after he completed a 21-0 qualifying season whitewash over McLaren team-mate Stoffel Vandoorne, who was 18th.
The last man to achieve this race feat was also Alonso, back in 2008 at Renault over Nelson Piquet Jr.
"We've been very competitive this weekend and were pessimistic for Q1 without chances and we somehow managed to go to Q2 and that's good," Alonso told Sky Sports.
"My priories are to finish the race to see the chequered flag. If we can be in the points that will be in the dream, we are five places away now."