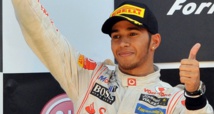 Hamilton posted a best 1 minute 33.067 seconds around the the 5.848-kilometre course at the Olympic Park in Sochi, 0.254 seconds quicker than Mercedes team-mate Valtteri Bottas.
Vettel, who trails Hamilton by 40 points with six races left this season, was 6 tenths off the pace, with Ferrari colleague Kimi Raikkonen fourth.
Ferrari ended the morning in farcical fashion with Vettel having to push his car back into the pit after seemingly failing to cross the line before the session ended.
Mercedes have won all four previous Sochi races, including from Hamilton in 2014 and 2015, and Vettel must find a significant improvement in his Ferrari to be competitive in qualifying later Saturday.
Red Bull duo Max Verstappen and Daniel Ricciardo were fifth and sixth but both will start Sunday's race at the back of the grid due to engine and gearbox penalties.