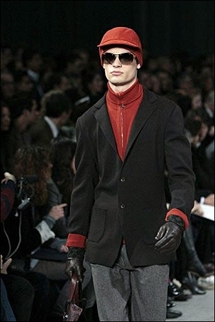 "There is more meaning than usual," said Jean-Jacques Picart, 60-something consultant for the world's most powerful luxury firm, LVMH, plus a bevy of other brands. "There is creativity here, but the real world too has been taken into account."
Consciously slumming it or not, top-end luxury house Louis Vuitton unveiled its collection in the down-at-heel district housing the onetime Paris morgue, recently converted into an arthouse as part of a rehabilitation scheme.
Funky woolly caps and sneakers signed by rapper Kanye West -- watching in the front row -- gave Vuitton's finely crafted and highly-technical tailoring a downmarket streetwear style appropriate to times of doom and gloom.
Known for his love of ethnic designs, fine fabrics and layering, designer darling Dries Van Noten this week moved on to graphic cuts, sturdy materials and a clearer silhouette in suits and coats with belted waists.
Another big classical name, the house of Ungaro, possibly looking at a wider market, discarded the elegant straight trousers or pants with tucks that once epitomised a banker's elegance.
Like many designers showing this season in Paris, Ungaro's Franck Boclet instead went for leg-hugging tight pants (and jeans) sliced above the ankle, mixing and matching jackets and pants rarely throwing out monochrome suits.
Lanvin, also a watchword for elegance, avoided the black that dominated many shows in favour of a wide palette of dark but softer shades, but also shoved pants into lace-up boots and thick woolly socks.
There was a barely a tie to be seen throughout the shows, but Lanvin's Lucas Ossendrijver designed a woolly grey one that faded into oblivion with a woolly suit and coat in the same shade.
"You have to try to be optimistic at the moment," said Ossendrijver. "And you have to listen to what people need."
Thick woolly garments, suggesting snug comfort amid the economic chill, featured in several of the Paris shows, with Japan's Yohji Yamamoto rolling out a huge long shapeless cardigan in thick knit over a huge almost as long shapeless sweater.
In far more elegant style came bright sit-up yellow knits in cashmere from luxury luggagemaker Hermes -- which stuck to its classic narrow trousers, pleated narrow trousers, and even wide trousers for the fast-disappearing golden boys, or more stately-shaped bigwigs.
Pants looks set for a revolution, with that other icon of discreet elegance, Yves Saint Laurent, ditching long trousers in favour of low-crotch pants cut halfway down the calf and worn over leggings.
Wearing short pants over long pants or thick virile leggings popped up time and time again, with Kenzo too tucking leggings into boots.
Dior meanwhile in a sharp-lined black-and-white collection took a distinctive tack with wide wide baggy pants and flyaway stiff shawl collars on shirts.
"These are times in which to be optimistic and awaken people's desires, I mean should you take a pill or buy a jacket?," said Lanvin's artistic director Albert Elbaz.
"We could've gone for a very sombre dark collection but believed we needed to be optimistic."
----------------------------------------------
Image of a model presenting creations for French fashion house Louis Vuitton, during the Men Automn-Winter's 2009 Ready-to-Wear collections show, on January 22, 2009 in Paris, by Francois Guillot.