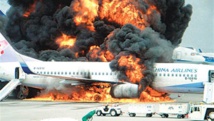 Hawaiian authorities said all people on board the twin-engine Beechcraft King Air plane were killed when the flight crashed soon after taking off from Dillingham Airfield on the island of Oahu on Friday.
The cause of the crash is still under investigation, the Department of Transportation tweeted.
A spokesman for the Federal Aviation Administration said the investigation could take up to a year, according to Honolulu Star Advertiser newspaper.