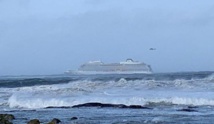 So far, about 460 of the 1,373 passengers and crew have been brought ashore from the Viking Sky.
The ship suffered engine problems in rough waters off the western coast of Norway on Saturday, prompting a rescue operation in which passengers were plucked off the vessel by helicopters.
The cruise ship, which has regained some engine power, is being towed ashore to the town of Molde. It is unclear how long the journey will take.