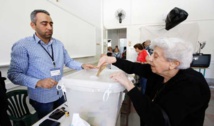 The unofficial results indicated that the key political players would remain unchanged, with the exception of some newcomers who managed to win under a new electoral law.
The vote was seen as a test of the new law, which reduces the number of electoral districts and introduces proportional representation.
Hezbollah was set to coming out on top in most of the places where it fielded candidates, results collected by Hezbollah itself and polling experts suggested.
The Future Movement of Prime Minister Saad Hariri seemed to have lost seats, especially in the capital.
As a strong Sunni leader in parliament, Hariri may still emerge as the best candidate to head the next government after the elections.
The Christian Lebanese Forces, an outspoken critic of Hezbollah, are expected to roughly double their representation in parliament, to around 15 seats.
Lebanon's first parliamentary elections in nearly a decade were marked by a weak voter turnout which reached 49.2 per cent. Official results are due to be declared by noon (0900 GMT).
Some 583 candidates stood for the 128-seat parliament, which is equally divided between Lebanon's Muslims and Christians.