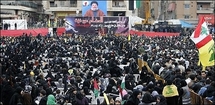 Beirut - Rana Moussaoui) - Lebanon's Shiite militant group Hezbollah -- vying with Hamas as Israel's 'public enemy number one' -- will not rush to rescue Gaza Strip Palestinians nor open a second front with the Jewish state, analysts said on Friday.
The armed group, which fired thousands of rockets into northern Israel during its war in 2006, will pursue its policy of moral support only, according to the analysts.
More than two years after the devastating conflict between the "Party of God" and the Hebrew state, "Hezbollah is not in a position that allows it to carry the burden of a second war," said Paul Salem of the Carnegie Centre for the Middle East.
Hezbollah chief Hassan Nasrallah has stepped up declarations of support for Hamas, whose policy of "resistance" to Israel he shares, but nothing in his words hints at possible military support.
Hezbollah expert Amal Saad-Ghorayeb said that while Hezbollah views Palestine as "a central cause" it would be naive to think that the Lebanese group is going to attack Israel in reprisal for the Jewish state's offensive on Gaza which has killed at least 425 Palestinians.
"Even if it had the intention and means to do so, it is difficult for the movement to help Hamas directly, for logistic and geographical reasons," Salem said.
Having already shown itself capable of standing up to Israel, Hezbollah has "tripled its fire power" since their war in 2006, according to the Jewish state. It estimates that the group has some 42,000 missiles which could reach the south of Israel.
Despite Nasrallah's statement on Sunday, a day after the Israeli offensive began, there are domestic reasons that Hezbollah is unlikely to be disposed to launch an adventure against Israel.
Saad-Ghorayeb said that a Lebanese front would be disastrous for the country, and especially for Beirut's southern suburbs and Hezbollah stronghold, which are only now recovering from the 2006 conflict.
Hezbollah was the only armed group allowed to keep its weapons at the end of Lebanon's 15-year civil war in 1990, but has since come under growing pressure to give them up.
Some Lebanese oppose any armed initiative by the Syrian- and Iranian-back Hezbollah, said Saad-Ghorayeb.
"On the domestic level, Hezbollah does not want to antagonize its domestic foes. They don't want to ruin the dialogue table which allows them to keep the issue of their weapons indefinitely unsolved; it is a way of postponing the issue," she said.
Lebanon's anti-Syrian parliamentary majority wants only the state to have the monopoly on weapons and decisions of war and peace -- not Hezbollah and its supporters, Damascus and Tehran.
"Some Arabs have shifted to open cooperation with Israel againt Iran and Syria - the gloves came off, (there have been) shifts on both sides," said Saad-Ghorayeb.
Hezbollah particularly sees itself as Lebanon's defence against Israel and believes it must keep itself armed for this, she added. If the Shiite group provokes a sudden escalation in the Middle East conflict, its rivals could use that to demand its disarmament, she added.
"However, Hezbollah can perfectly justify any action it takes in order to defend itself. An offensive action would be disastrous on all levels but it can defend itself if Israel provokes (it)," she said.
Some experts point out that Hezbollah has not lacked excuses in the past to launch military action -- such as seeking revenge for the assassination of leader Imad Moughnieh in 2008 which was widely blamed on Israel.
At present, Hezbollah is maintaining a policy of media attacks against Arab countries supported by Washington. Nasrallah has accused some Arabs, and especially Egypt, of complicity with Israel after its offensive against Gaza.
Analysts highlight another consideration for not unleashing a military front: Hezbollah does not want any confrontation with the Lebanese army, deployed in the south for the first time in 30 years after the Hezbollah-Israeli war of 2006.