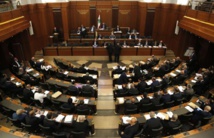 Headed by Hezbollah lawmaker Mohammed Raad, the bloc filed the complaint against Ambassador Dorothy Shea during a meeting with Lebanese Foreign Minister Nassif Hitti.
"We asked the minister to take the measures he deems appropriate to control the behaviour and pronouncements of this ambassador, and she must stop interfering in our internal affairs and stop the rhetoric that provokes strife among the Lebanese," Raad said after the meeting.
Last month, Shea was summoned by Hitti after she made remarks against Hezbollah in a TV interview.
The ambassador told Saudi-owned television al-Hadath that Washington had "great concerns" over Hezbollah's role in the Lebanese government.
She said that the group had obstructed some reforms that the ailing Lebanese economy desperately needs.