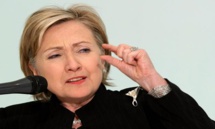 "I'm not running, but I'm going to keep working and speaking and standing up for what I believe," Clinton told broadcaster News 12 Westchester.
The list of potential candidates for the Democratic nomination has grown in recent weeks, but the question remained open whether the former senator and secretary of state could again seek the party's nomination.
Although the wife of former US president Bill Clinton took a larger portion of the popular vote than Trump in 2016, she lost the so-called Electoral College vote, which decides who becomes president.
Prominent US Senator Bernie Sanders said in February he would run for the Democratic nomination in 2020, after losing out to Clinton in the party's 2016 primary elections.
While Sanders stood as the only major opposition to Hillary Clinton in the 2016 Democratic primaries, this year he joins an already packed field of hopefuls including senators Elizabeth Warren, Cory Booker and Kamala Harris, among others.