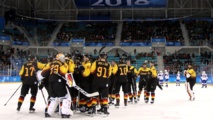 But, until the start of the Pyeongchang Games, his heaving trophy collection was still missing one thing: Olympic gold medals.
Now, after skiing in two events in South Korea, the 28-year-old has two of them in his luggage, and he may have to find space for one more, after the slalom event later this week.
On Sunday at the Yongpyong Alpine Centre, the Austrian cruised to giant slalom victory, 1.27 seconds ahead of Henrik Kristoffersen and Alexis Pinturault.
"In giant slalom he is in his own league," silver medallist Kristoffersen said after the race. "We are fighting for silver and bronze."
"He has all the capabilities he needs, he has the equipment, and the team around him, to be that good. And he has the experience as well."
After Hirscher had secured a comfortable 0.63 buffer in the first run his victory certainly seemed inevitable to those watching live, and it seems his self-belief never wavered either.
"It was kind of a mind game, as always, between the first and second run," Hirscher said. "But the confidence, as well as the years of experience, they are helping a lot at the moment."
He described the pressure and weight of expectation ahead of the second run of the day as high but "nothing special."
The reason for that sense of calm, in the midst of sporting battle, can perhaps be gleaned from a look back at Hirscher's inevitable path to the top of alpine skiing.
Growing up in the small town of Annaberg in Austria's western Styria region, he started on skis at just three years of age. His parents were ski teachers and his father remains a mentor to this day.
At the age of 18 he made his debut on the World Cup tour, winning his first race around 2 and a half years later at Val d'Isere. Since then he has had a steady rise to the pinnacle of the sport, with a focus on slalom and giant slalom, which has seen him secure an amazing six overall World Cup wins in a row along the way - and leave the competition scratching their heads.
"I think it's a difficult question to answer as to why he's so good," Norwegian skier Kjetil Jansrud, who is currently fourth on the World Cup standings, said. "There are a lot of guys from the tour who work hard."
"Down the road of being an athlete, you're going to make a lot of decisions, some of them very right, some less right, some wrong.
"It's just the way of things, but Marcel has been the guy who has made a lot of right decisions throughout his career."
Should he stay injury free, a seventh World Cup win for Hirscher is surely a certainty later this northern winter too. But for now, after just missing the podium in the giant slalom in 2010 and 2014, Sunday's second Olympic win is to be savoured.
"I'm very thankful to now finally have two gold medals," he said. "It's good to now be really in the first position."
Notepad