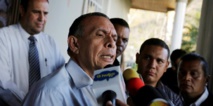 The Mission to Support the Fight against Corruption and Impunity in Honduras (MACCIH) accused Fabio Porfirio Lobo and another 11 individuals of "money laundering, fraud, falsification of documents, and bribery" as part of a case known as "Narco-politics."
"[The] 12 citizens [stand] accused of being part of a scheme that allowed the laundering of money from international drug trafficking through works contracted with the Honduran State, most of which were not carried out," the MACCIH statement read.
The investigation was sparked by Devis Leonel Rivera, a leader of the "Los Cachiros" drug cartel, who testified in a US court that he had given money in 2009 to Porfirio Lobo's election campaign in exchange for government contracts.
According to MACCIH, once elected Porfirio Lobo assigned 21 contracts, worth 68 million Honduran Lempira (2.7 million dollars), to companies connected to Rivera as part of the scheme.
The anti-graft mission added that the works assigned by these contracts were mostly not done as their purpose was "to prestige and legitimize" the companies.
Fabio Porfirio Lobo, who is serving a 24-year sentence in the US for drug trafficking, is among other things accused of ensuring that the contracts were granted.