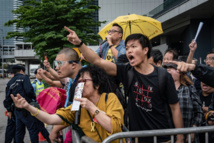 The group was a small portion of the thousands of residents who were occupying major roads outside of the city's government complex on Monday morning.
Protesters pushed against a gate surrounding the legislature while others built more barricades to protect the group from riot police at another end of the complex.
The escalation in tension occurred less than an hour before hundreds of thousands of residents were expected to gather for a march from Victoria Park to government headquarters.