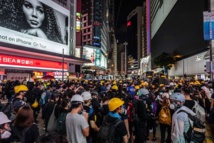 Reporters Without Borders (RSF) is urging democracies to pressure Beijing to withdraw a national security law for Hong Kong enacted Tuesday that deems acts such as secession, sedition and foreign interference punishable by life in prison.
"This punishment is applicable to all journalists regardless of where in the world they are based," RSF said in a statement.
The group refers to Article 38 of the law, which makes it applicable to offences committed outside of Hong Kong by people who are not permanent residents of the city – essentially, anyone in the world.
RSF said foreign journalists who write critically about Hong Kong risk life imprisonment if tried in the financial hub and potentially the death penalty if extradited to mainland China.
Beijing is trying to establish a "new world media order," said Cedric Alviani, RSF's East Asia bureau head.
Hong Kong has fallen from the 18th place in the World Press Freedom Index, in 2002, to the 80th place, currently.
Mainland China is near the bottom of the index, ranking 177th out of 180 countries and territories.