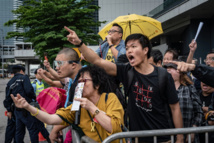 Local broadcaster TVB said that Hong Kong Chief Executive Carrie Lam was meeting with legislators on Saturday at noon and would make an announcement afterwards.
The extradition bill, which would allow for criminal suspects to be sent to China on a case-by-case basis, has ignited anger in Hong Kong in a way not seen since 2014's democracy protests.
On Wednesday, Hong Kong police used rubber bullets, tear gas, and pepper spray against tens of thousands of protesters who surrounded the Legislative Council to prevent the bill's second reading.
Last Sunday, an estimated 1 million people marched against the bill, according to organisers, in a largely peaceful protest that drew Hong Kong residents of all ages.
Many protesters expressed concern that the bill was a sign that Hong Kong was losing its promised autonomy to China, which the former British colony was promised for 50 years when it returned to Chinese sovereignty in 1997.
They also fear China's legal system, which has a reputation for a high conviction rate, political prosecutions, forced disappearances and indefinite detention. Hong Kong, by contrast, has one of the most respected legal systems in Asia.
In 2003, mass protests against controversial national security legislation led the government to indefinitely suspend the bill although it was not fully revoked.
Hong Kong is a special administrative region of China under the "one country, two systems" arrangement until 2047.