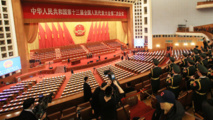 At the last NPCSC session that concluded on June 20, the national security law also did not appear on the original agenda but was added just as it convened. The increased secrecy surrounding the Hong Kong bill breaks with the tradition of publishing session agendas.
The national security bill was reviewed and discussed in small groups, the state-run Global Times reported, citing NPC deputy Stanley Ng Chau-pei.
According to Ng, the discussions concluded with a "general consensus" regarding the bill. Dissent within the body, which is subordinate to and controlled by the Communist Party, is extremely rare.
The draft law, intended to crack down on "subversion, secession, terrorism and collusion with foreign and external powers" in the city is widely expected to be fast-tracked in time for the 23rd anniversary of Hong Kong's handover from Britain to China on July 1.
The holiday has been an occasion for mass pro-democracy protest marches since the Hong Kong government's unsuccessful attempt to introduce a national security law in 2003.
Details of the draft bill issued on June 20 by the Legislative Affairs Commission of the National People's Congress stipulate that the law will supersede Hong Kong's constitutional document, the Basic Law, which guarantees fundamental freedoms and the right to a fair trial.
Although the Basic Law states that mainland laws will not apply in Hong Kong, one article stipulates that exceptions will be made for those laws listed in an annex. This leaves a back door for Beijing to impose laws on Hong Kong without having to pass it through the city's legislature or consult the public.
The law will also allow for mainland security agencies to operate in Hong Kong, and calls for the establishment of a new police force and prosecutor's office to pursue national security cases, which will be tried by judges hand-picked by the chief executive.
Tam Yiu-chung, Hong Kong's sole delegate to the NPCSC, has also suggested that in some cases suspects could be extradited to mainland China, where Communist Party-controlled courts convict more than 99.9 per cent of defendants.
Despite aggressively pushing the law, top Hong Kong leaders such as Chief Executive Carrie Lam have not seen a draft of the legislation and have been unable to answer questions from those concerned it will curtail Hongkongers' civil liberties.
Justice Secretary Teresa Cheng told reporters earlier this month that she did not know details of the legislation beyond what had been reported in the press, and said "your guess is as good as mine" when asked when it would come into force.
A survey by the Public Opinion Research Institute found that 57 per cent of Hong Kong people oppose the law. An earlier poll by the Ming Pao newspaper found 64 per cent of residents are against it, whilst a survey of the city's journalists put opposition at 98 per cent.