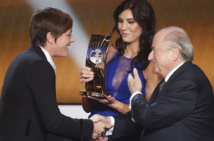 "I had Sepp Blatter grab my ass," she said. "It was at the Ballon d'Or one year, right before I went on stage. It's been normalized."
Solo presented the FIFA women's player of the year award in 2013, entering onto the stage with Blatter, who was banned from the sport in 2015 following a corruption scandal.
Solo, who helped the US team to World Cup victory in 2015 and Olympic golds in 2008 and 2012, said she wished more women would speak up about sexual harassment in sport, which she said was "rampant."
"I wish more women, especially in football, would speak against it, about their experiences, because some of those people still work there and some of the players still act in these behaviours.
"I had some bad experiences with players who are still on the team.
"I think it is important to acknowledge that this doesn't just happen with the powerful white men. It can happen all across the board, it can happen between women," she continued.
In a statement quoted by other media, Blatter dismissed Solo's allegation as "ridiculous."
Numerous high profile men have been accused of sexual assault and harassment in recent weeks, triggered by a New York Times report detailing allegations against the movie mogul Harvey Weinstein.
Notepad