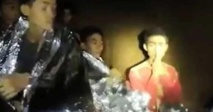 "It is the same team of Thai and international divers from yesterday, with a few replacements because some of them are too tired," he added.
Late Sunday, a group of rescuers successfully brought four boys out of the cave, one by one, along the 4.7-kilometre route.
They were immediately sent to a local hospital and have undergone medical tests and treatments. After the rescue, Narongsak told a press briefing the rescue mission for the remaining nine members of the team could begin in 20 hours.
"We should have some good news in a few hours from now," he added.
The rescue resumed at 11 am local time (0400 GMT). Narongsak said earlier that each rescue takes about 11 hours, which means the first team member is expected to be out of the cave early in the evening.
It is unclear if all nine remaining trapped people will be rescued Monday.
Interior Minister Anupong Paochinda told reporters on Monday the four boys rescued on Sunday are in good condition.
Families of the 13-member football team were told to be prepared for a hospital visit once they have been medically treated, local TV station Thai PBS reported.
"Many thanks to all the officers for their dedication," Amporn Srivicha, an aunt of one of the boys told the TV station.
On June 23, a dozen boys aged 11 to 16, and their 25-year-old coach, visited Tham Luang-Khun Nam Nang Non Cave, 1,000 kilometres north of Bangkok near the Thai border with Myanmar, but were trapped inside when flash floods blocked their exit.
They were found on July 2 after a nine-day search hampered by treacherous conditions inside the cave.
Parts of the cave had recently been totally submerged in water. The route from the rocky shelf where the group has been waiting to the cave's exit has taken even professional cave divers as long as five or six hours to complete.
Notepad