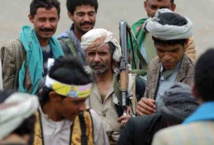 Abdel-Salam Jaber, who served as information minister in the self-styled Houthi government, appeared Sunday at a press conference in the Saudi capital, Riyadh, where he lashed out at his former cohorts.
"The [Houthi] militias are sending children to war in the name of religion," he told a televised press conference in Riyadh, adding that the Houthis are not true Muslims.
He added that he was forced to join a movement he called the rebel "misleading campaign."
Jaber's defection comes amid an ongoing military campaign by the Saudi-led alliance to capture Yemen's coastal city of Hodeida.
An estimated 80 per cent of imports and aid reach Yemen through Hodeida's port in western Yemen.
"The Houthis are breathing their last and have reached their last days," Jaber added without elaborating.
One of the Arab world's poorest countries, Yemen has been embroiled in a disastrous power struggle between the Saudi-backed government and the Houthis since late 2014, when the rebels seized the capital, Sana'a, and Hodeida.
Saudi Arabia and its Sunni allies fear that the rebels will give their regional rival, Shiite Iran, a strategic foothold on the Arabian Peninsula.
Aid agencies have repeatedly warned that the military campaign on Hodeida would have devastating consequences for residents already on the brink of famine.
Last month, the UN's relief chief warned that Yemen was in danger of being engulfed by a famine that could affect 14 million people, around half the population.