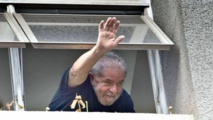 The demonstrators took to the streets one day before a court in Porto Alegre is due to decide whether to uphold a prison sentence of nearly 10 years, handed to Lula in July for accepting a beachside penthouse from a construction company seeking government contracts.
A ruling confirming the conviction would exclude Lula from the October 7 presidential race, which he is tipped to win.
"We are defending that Lula must take part in the elections, because an election without Lula is a fraud," said Luiz Antonio da Silva, a 59-year-old demonstrator.
The former president has dismissed the legal proceedings against him as a politically motivated "farce."
The case has divided Brazilians between supporters and opponents of Lula, who is credited with pulling tens of millions of people out of poverty during his two terms as president from 2003 to 2011.
"Lula is as guilty as everyone of corruption," said Rafael Pereira, a 44-year bookkeeper, in a reference to the massive Lava Jato graft scandal.
The accusations against the 72-year-old are linked to the scandal, which has implicated dozens of politicians and businesspeople.
It is not clear what Lula's leftist Workers' Party would do if he is excluded from the presidential race, in which polls show him having twice the support of the next best candidate, right-wing politician Jair Bolsonaro.