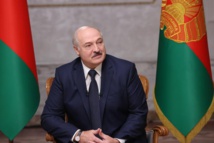 Demonstrators across the country are set to symbolically appoint the exiled opposition leader Svetlana Tikhanovskaya as president at an "inauguration of the people" from 1 pm (1100 GMT).
The protests come the day after masked uniformed men arrested dozens of women at a march in Minsk on Saturday, according to the Viasna human rights group.
Lukashenko's opponents are hoping for an even greater influx of protesters following his secretive inauguration on Wednesday, after which the daily demonstrations once again picked up momentum.
It is estimated that hundreds of thousands took part across the country during the largest weekend rallies since Belarus' disputed election on August 9.
Lukashenko claims he received 80 per cent of the vote in the election, but his critics and many international observers say voting was rigged to maintain his grip on power.
The European Union issued a statement this week renewing its claim that the August 9 election was "neither free nor fair" and that it would not recognize Lukashenko as president.
Lukashenko, 66, has led Belarus, a former Soviet republic between Russia and EU state Poland, for more than a quarter of a century, tolerating little dissent.
French President Emmanuel Macron meanwhile said on Sunday he was convinced that Belarus needed new leadership.
"It is clear that Lukashenko has to go," he told French newspaper Journal du Dimanche ahead of a three-day visit to the Baltic states of Lithuania and Latvia beginning on Monday.
"What is happening in Belarus is a crisis of power, an authoritarian power that cannot accept the logic of democracy and that clings to power by force," Macron added.