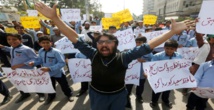 The crackdown was launched after the country's interior ministry directed provincial governments and federal agencies to take action against those involved in violence and damage to public and private property during the disturbances.
"We have arrested suspects for injuring policemen, damaging public and private property," said Basharat Ali, a spokesman for Punjab police. According to local media, Punjab police arrested more than 1,100 people.
Islamist group Tehreek-Labbaik Pakistan (TLP) had paralysed Pakistan for three days with protests after the Supreme Court ordered the release of Asia Bibi, a Christian woman sentenced to death in 2010 for allegedly committing blasphemy in a row with Muslim women.
The TLP called off the protests on Saturday after the government agreed not to oppose a review petition against the court's judgement, take steps to "bar Bibi from leaving the country" and release those arrested during the protests.
"The government had agreed to release our people but instead it has launched a crackdown," TLP spokesman Zubair Kasuri told dpa on Monday. He said more than 500 TLP workers were arrested on Sunday night.
"The government's strategy to misuse the agreement and arrest our people instead of miscreants will be detrimental to peace," Kasuri said.
During the protests, TLP leaders had called for the death of the judges who made the decision and for the ouster of the government.