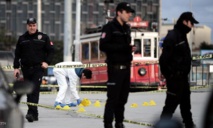 Workers continued their protest through the night after employers failed to meet their demands for better working conditions, according to Cumhuriyet daily. Gendarmerie then broke into the worker camps near the airport construction site in the morning and detained workers, Cumhuriyet added.
On Friday, security forces fired tear gas and water cannon at hundreds of workers shouting slogans demanding better conditions. IGA, the company responsible for constructing and operating the facility, said late on Friday that it would take measures "as soon as possible" to resolve workers' problems.
There was, however, no immediate agreement between the workers and the company, local construction workers' union Insaat-Is said on Twitter, adding some of its managers were among the detained. The union shared alleged pictures of gendarmerie, accompanied by water cannon trucks, entering the worker camp and detaining people.
As reasons for the strike, workers cited on social media fatalities; sub-standard food and accommodation; and problems with wages.
"We are not being treated as humans," one worker said in a video, adding there have been several accidents and deaths at the site. The video was shared by main opposition Republican People's Party (CHP) Istanbul lawmaker Onursal Adiguzel on Twitter.
The yet-unnamed airport, Istanbul's third, is scheduled to open on October 29. It is a pet project of President Recep Tayyip Erdogan and is touted by the government as the largest airport in the world upon completion.