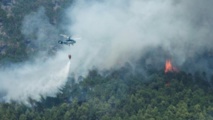 Athens

-
More than 500 firefighters, soldiers and volunteers with three aeroplanes and four helicopters were engaged Tuesday in an effort to subdue fires north of Athens.
"We hope to bring fires near Athens under control," Attica region governor Petros Filippou told Greek television broadcasters.
Wind, which threatens to rekindle and spread the hundreds of smaller fires, and the rough, heavily forested terrain in the area of Kalamos, Kapandriti and Varnavas have complicated the effort.
People in Athens reported ash fallout reaching the metropolitan area from fires 30 kilometres away.
The threat of fires was also high in central and southern Greece. At least 54 forest and brush fires broke out over the previous 24 hours, the Greek civil protection service said.
Fires in western Peloponnesus and on the island Zakynthos were meanwhile brought under control.
Greece made an official request for European Union aid on Tuesday. A fire department spokeswoman said four fire suppression aircraft are needed. Because of the country's ongoing financial problems, it has not been able to modernize its fleet of fire suppression planes.
Cyprus has already volunteered to send 60 firefighters, who are expected to arrive late Tuesday.
Notepad