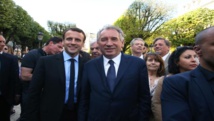 "We Greens offer Macron a battle of ideas," they said, as the party launched its campaign for the European Parliament elections in May, while praising the president's desire to "go beyond everybody's comfort zone."
Macron's proposals, aimed at rallying voters ahead of elections that he called "decisive" for Europe's future, include a new agency to help protect the polls from manipulation and a reform of the bloc's borderless Schengen area with a common border force and asylum office.
But, in a column published across Europe on Tuesday, he also warned against nationalism, saying "we can't let nationalists with no solutions exploit people's anger."
Polish Prime Minister Mateusz Morawiecki said his government would back only those parts of Macron's proposal which are in the country's interest.
Those that are not include the digitalized taxation and steps against tax havens, he told the TV channel Polsat News on Tuesday night. He did not elaborate further.
In Budapest, Prime Minister Viktor Orban's spokesman, Zoltan Kovacs, tweeted on Tuesday that the initiative "could mark the beginning of a serious European debate.
"It's high time we speak seriously about Europe's future," he said, but added that "in the details, of course, we have differences of views."
Kovacs did not elaborate, but Budapest opposes ideas of a stronger joint effort to protect EU frontiers. Orban insists it is a domain solely of the government.
The nationalists in both Hungary and Poland have steered their countries into a collision with the EU over refugee and asylum policies and faced legal action from Brussels.
Both Orban and Morawiecki said they expect the May elections to produce an anti-immigration majority in Europe.