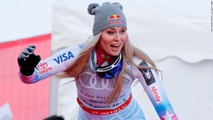 Are, Sweden (dpa) – An impressive list of achievements, titles, medals and podium places was reeled off by the US media officer as the skier introduced as the "most winningest female skier of all time" sat alongside and listened impassively.
Lindsey Vonn has every reason to be proud of her records even if the best-ever 86 World Cup victories by Swedish great Ingemar Stenmark has proven to be elusive.
Vonn, and everyone in skiing, knows she would have smashed that record too but for injuries which left her far too long on the sidelines, in operating theatres or in rehab.
She missed almost all of the 2013-2014 season and a good part of 2012-2013 after tearing her knee ligaments and fracturing a bone below the knee during the super-g at the 2013 world championships. There have been many other injuries, including a severe arm fracture in training in November 2016.
She says she has undergone seven knee operations in all, and another one is to follow - reconstruction surgery on the anterior cruciate ligament she tore in November. Her knees are a mess.
On Sunday at the age of 34, Vonn says farewell to elite racing after 18 years on the World Cup circuit when she competes in the downhill at the world championships in Are.
Alpine skiing will miss one of the all-time greats -, and a "PR (public relations) machine" for the sport, in the words of international federation president Gian Franco Kasper.
He was undoubtedly also alluding to Vonn's media celebrity status and her personal life including a relationship several years ago with golfer Tiger Woods. She is now dating NHL player P.K. Subban, like Vonn an Olympic champion.
A few weeks ago in Cortina d'Ampezzo, Italy, Vonn was in tears in realizing that the pain in her knees would mean she might have to quit immediately. Originally she had wanted to ski the whole season, with Stenmark's record very much in her sights.
Then another knee injury while training in Colorado in November, wiped out her season until Cortina last month. She has had just the three races in Cortina before heading to Are, deciding finally that the world championships will be her farewell.
"I have pushed the limits as long as I can. I just can't push the limits any more," she said.
On Tuesday, Vonn crashed out badly in the super-g, but fortunately suffered no further knee damage. Just a few knocks and bruises.
And later that day she was in humorous if at times wistful mood as she faced the press.
She has drained out the emotion of Cortina and come to terms with the fact she can no longer compete at the top. She bows out with 82 World Cup wins, a record for a woman, but four short of Stenmark's tally.
"I feel I have cried so much. I am not sad any more, I have accepted it," she said.
She wants to enjoy her last race. But don't suggest that Sunday's downhill will be no more than a sentimental swansong.
"Who said I won't win? I didn't say that. I could still win. Don't count me out," she said.
It took a while for Vonn to accept that her racing career was ending, she admitted. Nothing will replace the thrill.
"As much as I like winning I like going fast even more," she said.
"You can't really find the adrenaline and the speed, the risk involved in ski racing, in anything else. I kinda got that feeling when I was driving a Formula One car but it wasn't the same. Your body is physically not in harm's way. I don't know how I am going to replace that feeling."
What comes next is still a bit vague – she is involved in some business ventures and film production – but whatever it is, Vonn aims to be just as successful.
"I am going to approach business in the same way I approach skiing," she said.
"Just work as hard as I can and stay diligent about it. I hope one day they will say 'oh yes, she was a skier a long time ago, but now she is a successful businesswoman'."
But for now it's only Sunday's downhill that counts. Vonn, who has won two world championship golds along with an Olympic downhill gold, is aiming for an eighth medal at her eighth world championships.
She hopes 62-year-old Stenmark, who will be taking part in a "race of legends" in Are next week, will also be on hand to see her race one final time.
"Having my last race with him there would be the best farewell I could possibly have," she said.
Notepad