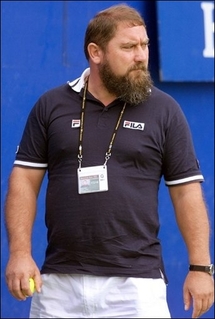 But her career went into a following a series of incidents involving Damir before staging a comeback at this year's Open which has gripped the Australian public.
Damir hasn't returned to Australia since taking Jelena and the rest of the family back to Serbia after claiming the 2001 Open draw had been rigged, and he admitted he was wrong in forcing her to leave.
"Do you remember 2001, when I (made a) change for Jelena when she played for Australia?" Dokic told the Melbourne Herald Sun.
"It is my biggest, biggest mistake.
"In 2001, Australian Open, the draw for Jelena is very bad. They do nothing for her.
"I get very angry, very angry and I change play, stop play for Australia and change (to Serbia).
"But now I think it is my biggest mistake."
Jelena has only just recovered from the move and Damir's erratic behaviour, which included being ejected from the US Open in 2000 for abusing staff over the price of a salmon lunch.
He also made headlines for smashing a journalist's phone at Wimbledon and at one point threatened to kidnap his daughter, claiming she had been brainwashed by Australia "with the help of Croatia and the Vatican."
She admitted this week that she "cracked" when she was 19 and at the top of her game, subsequently suffering severe depression.
But Damir insisted the depression was not his fault.
"She became depressed when she saw what she had done," he said.
"When she left home everything started to go bad for her. She started losing tournament after tournament and she was panicking. Of course she was depressed, but not because of me.
"She became the fourth-best player in the world because of me."
In a separate interview with Australia's Channel Seven, he said he would try to return to Australia next weekend should Jelena's tournament last that long.
"I believe that if it's possible to do it in such short notice that I would come, because I loved Australia," he said.
Jelena's fairytale run at the Australian Open has won over the Australian public, although it was soured by newspaper reports that she was being chased over an alleged debt to a dead convicted Melbourne drug trafficker.
She was accused of owing 39,000 US dollars to John Giannarelli, who died late last year after a battle with cancer, the Herald Sun reported.
It cited his uncle as saying Giannarelli took on her management duties and allegedly paid for her and her boyfriend to live in a Melbourne apartment.
Australian Open tournament director Craig Tiley said Dokic was disappointed to hear about the accusations.
"Those are allegations that are not true," he told the Herald Sun.
"I think it's disappointing and concerning that these allegations are made at this time."
-----------------------------------------
Image of Damir Dokic, by William West.