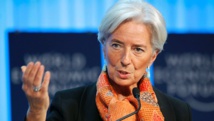 "Human rights, freedom of information are essential rights. And horrifying things have been reported and I am horrified," she said in Bali, Indonesia, at the end of the IMF-World Bank annual meetings.
"But I have to conduct the business of IMF in all corners of the world, and with many governments," she said, when asked whether she would go ahead with a planned visit to Saudi Arabia to speak at the Future Investment Initiative scheduled for October 23-25.
"At this point in time, my intention is to not change my plan and to be very attentive to the information that is coming out in the next few days, but I speak my mind."
Saudi Arabia has denied accusations it ordered the killing of journalist Khashoggi, a Washington Post columnist and US legal resident, inside its consulate in Istanbul, Turkey.
Turkey is investigating what happened to Khashoggi, who has not been seen since October 2, the day he entered the Saudi consulate in Istanbul to deal with paperwork required to marry his Turkish fiancee.
Saudi Arabia claims Khashoggi left the premises and then went missing, but some Turkish authorities have alleged that he was killed inside the premises.
His mysterious disappearance has triggered international outcry, with several world leaders demanding that Saudi Arabia provide answers on his fate.
Several major media sponsors have pulled out of the Future Investment Initiative, including CNN, CNBC, the Financial Times, the New York Times.
The high-profile event is intended to showcase Riyadh's Vision 2030 plan, a bid to open the country up to investments and diversify the kingdom's oil-reliant economy.
Khashoggi, 59, is a sharp critic of Saudi Crown Prince Mohammed bin Salman.
He has lived in self-imposed exile in the United States since last year "over concerns that he would be arrested or prevented from travelling" by Saudi Arabia, the Washington Post said.
The 33-year-old Saudi crown prince is believed to have championed bold reforms in the conservative monarchy, including the lifting of a decades-old ban on women driving.
However, Saudi authorities have recently arrested several leading activists, a clampdown that has raised questions over reforms there and drawn criticism from global rights groups.
Notepad