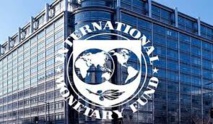 IMF managing director Kristalina Georgieva urged Prime Minister Boris Johnson's government not to "add to [economic] uncertainty" by insisting that future trade relations with the EU must be agreed by December 31.
"I really hope that all policy makers everywhere would be thinking about [reducing uncertainty]," Georgieva told the BBC when asked about the possibility of either an extension to the talks or Britain leaving the bloc without an agreement on future trade.
"It is tough as it is, let's not make it any tougher," she said.
Georgieva, a former vice-president of the European Commission, echoed the views of many British opposition politicians.
Johnson's government has declined to discuss Brexit in recent weeks, saying it must focus on the Covid-19 crisis, but it said again on Thursday that it will not seek to extend the deadline.
Asked about the possibility of an extension, a Downing Street spokesman told reporters that this would only "prolong the delay and uncertainty" surrounding Brexit.
Britain would reject any proposal by Brussels to extend the talks because it "needs flexibility," which it could gain by ending its adherence to EU rules, the spokesman said.
"To press ahead with Brexit on [this] timetable - already recklessly fast - is just irresponsible and shows a fundamental disregard for the UK's national interest," acting Liberal Democrat leader Ed Davey said on Wednesday.
"The government must stop putting ideology before all else," Davey added.
Negotiations between Brussels and London are scheduled to resume next week.
"We need real, tangible progress in the negotiations by June," EU lead negotiator Michel Barnier said after talks by video link with his British counterpart David Frost on Wednesday.
Britain formally left the EU on January 31 and agreed a transitional period until the end of the year to negotiate new trade and other arrangements.
Johnson has refused to rule out Britain leaving the EU without a deal on future relations if negotiations cannot be completed by the end of the year.
Many analysts said that task was impossible, even before the talks were delayed by the coronavirus pandemic.