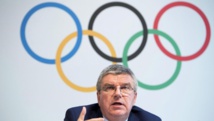 Sales have been slow from the outset as South Korea is not a major winter sport nation, with short track speed skating and figure skating the main events for the hosts.
In all, some 1.1 million tickets are on offer for the February 9-25 Games and IOC executive director Christophe Dubi said that "ticket sales are improving."
Pyeongchang organizers gave another report on the state of their preparations to the IOC executive board in Lausanne, Switzerland. Dubi spoke of "a great presentation" and said the South Koreans were well-prepared.
After the two-day meetings ended, president Thomas Bach backed that view.
"I would only like to add that we had indeed a very positive, very encouraging, report by Pyeongchang 2018," he told a news conference.
"The facilities are ready, snow is there and therefore we are really looking forward with gret confidence to Pyeongchang 2018.
The IOC executives had on Tuesday suspended Russia over wide-ranging and state-sponsored doping practices, but will allow clean Russians to compete in Pyeongchang without their national symbols.
Bach said those attending could "represent a new generation of clean Russian athletes in the ames and build a bridge into a clean future of Russian sport."