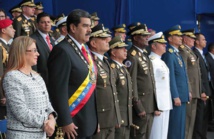 Nicaraguan President Daniel Ortega, who had been expected to face criticism over his repression of political opponents, cancelled his attendance.
About 200 Nicaraguans had demonstrated against Ortega in Antigua on Thursday, accusing him of being responsible for hundreds of deaths since anti-government protests erupted in April.
"He possibly thought it made no sense to be held accountable to governments such as Spain about the repression in Nicaragua," said Mauricio Diaz, the country's former ambassador to Guatemala.
Venezuelan President Nicolas Maduro and his ally, Cuba's Miguel Diaz-Canel, also did not attend the summit, where discussion was expected on the exodus of millions of Venezuelans fleeing the country's massive economic crisis and political unrest.
The leaders exchanged views about caravans of Central American migrants trekking towards the United States. Guatemalan President Jimmy Morales called for better conditions in the migrants' home countries to dissuade them from leaving, while Spanish Prime Minister Pedro Sanchez stressed the need for an appropriate legal framework.
Speakers earlier stressed the need for Ibero-American unity in a rapidly changing international environment.
"Today's world is more uncertain, more polarized," Ibero-American Secretary General Rebeca Grynspan said. "We are concerned about the weakening of the bases that have sustained the international architecture in recent years. We are concerned there will be less margin for negotiations."