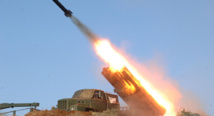 The report by the Center for Strategic and International Studies (CSIS) says there are an estimated 20 undeclared North Korean ballistic missile operating bases, including some identified in new commercial satellite images.
"The ballistic missile operating bases are small, dispersed throughout the nation, and, with few exceptions, located in narrow mountain valleys," the CSIS report says.
The report includes several satellite images taken on March 29 of what it says is one of them, the Sakkanmol base, and an adjacent unidentified military facility.
Sakkanmol currently houses a unit equipped with SRBMs but could accommodate more capable medium-range ballistic missiles, the report says.
The report, which could not be independently confirmed, also says North Korea's decommissioning of the Sohae launch facility earlier this year obscured the military threat to US forces and South Korea from the undeclared ballistic missile bases.
The New York Times reported that the network is known to US intelligence agencies but has not been discussed as part of President Donald Trump's claims to have neutralized the North's nuclear threat.
The satellite images suggest that North Korea has continued to make improvements at the sites, the newspaper says.
The newspaper said the State Department responded to an inquiry by saying Trump has made clear that if North Korea follows through on the commitments Kim has made, including complete denuclearization and the elimination of ballistic missile programmes, a much brighter future lies ahead for North Korea.