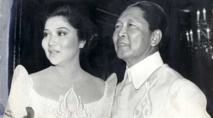 The 5th division of the Sandiganbayan Court also ordered the arrest of the 89-year-old, who faces eleven years imprisonment for each conviction.
The widow of the late Philippine president Ferdinand Marcos was known for her extravagant lifestyle, which included owning 3,000 pairs of shoes.
Based on court records, Imelda and her husband opened seven Swiss bank accounts which held 200 million dollars during her term as governor of the capital Manila in 1975.
The records also showed the couple used aliases for the accounts, but were caught out by Imelda signing her real name in documentation while opening the accounts.
Notepad